We've got your covered, from bumper to bumper.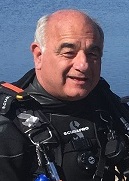 P.A.D.I Master Scuba Diver Trainer James "Chief" Buckley brings extensive teaching experience to his Scuba Classes. He built on his skills as Course Director at the University level as well as a Flight Instructor in three different types of aircraft to integrate and reinforce the standards set by P.A.D.I.
Chief started developing his Scuba teaching experience as a Divemaster, a capacity he served in that capacity for several years while supporting, learning from and being mentored by numerous highly experienced instructor in California, Florida, and Texas.
He followed by becoming an Open Water Instructor and later completed the requirements for his current Master Scuba Diver Trainer rating, which allows him to teach all levels from beginner through entry professional.
An Instructor with over 500 Scuba Certifications at all levels from Open Water through Divemaster, he's been acknowledged by P.A.D.I. for his professionalism and achievements by awarding him the Elite Instructor Award every year he's been an instructor.